JH FB Central McLean 36 Garrison 0

Elementary Girls Basketball practice will start Mon, 23 Aug after school at City Hall for grades 4-6. Players needing a ride to City Hall, can get on Delilah's bus. Parents will pick up at City Hall at 5 PM. Info packets/forms went home with all girls this week. Players need to bring appropriate shoes, work out clothes, signed/completed forms, and a positive attitude - be ready to work hard. Go Comets!!!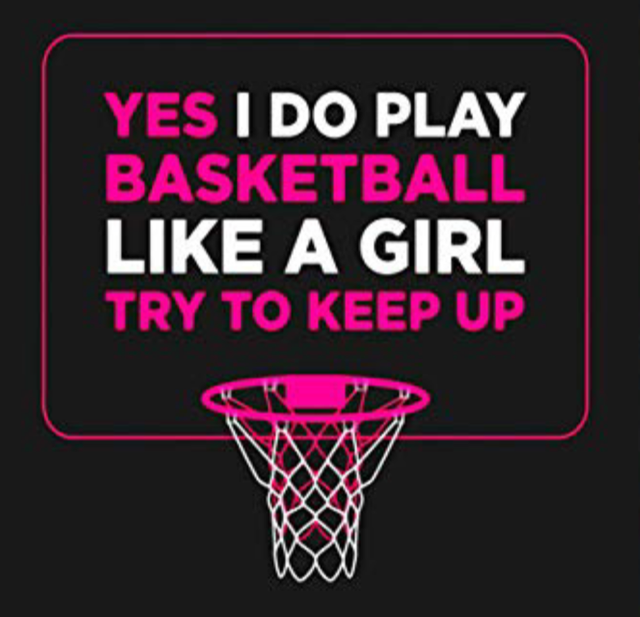 Reminder, Open House tomorrow, August 18, 4-6 pm. First day of school, August 19th.


It is hard to believe that this coming Thursday, August 19th, we will be welcoming approximately 210 kids to their first day of school for the 2021-22 school year. We are beginning this school year at the same level of Covid Mitigation Strategies that we completed the 2020-21 school year. We ask parents to please go over health screening questions--
https://5il.co/x4m3--with
their children on a daily basis as we look forward to this new school year!


Friday, August 20th, at 6:45 pm, come to Underwood and help celebrate as we dedicate the Football Field, "Kevin Dockter Field". We ask that all players that played for Doc, and coaches that coached with Doc come to help honor and celebrate Doc's 35 years as football coach of the Comets and Cougars. This ceremony will be followed by the first FB game of the season as the Cougars play Richardton-Taylor-Hebron, at approximately 7:00 pm.

Literacy and Math Tutor Positions ND Reading and Math Corps is seeking two tutors to help Underwood Public School's Kindergarten through 8th grade students who need extra support with reading and math for the 2021-2022 school year. Reading Tutors work one-on-one with grades kindergarten through 3rd grade for 20-minute sessions. Math tutors work with small groups of students in grades 4th through 8th grade. North Dakota Reading and Math Corps provides comprehensive training in strategies proven to help students learn, so tutors are well equipped to help students grow. This part-time AmeriCorps position requires a 10-month commitment for the school year beginning in August, 5 days a week for 20 hours per week. Tutors work during the school day while school is in session. Perks as A Tutor: AmeriCorps is a national service program that provides monthly stipends in lieu of an hourly wage. Tutors receive a $820 monthly living allowance and an education award of $2,417.14 (upon competition of all hours). The education award can be used for college tuition and current student loans. Tutors who are 55 or older may choose to transfer their education award to a child, grandchild, or foster child. 2 - 675 hour/year positions are available. Please visit:
www.ndreadingcorps.org
and
www.ndmathcorps.org
or contact Brandt Dick at
Brandt.Dick@underwoodschool.org
Interested candidates must apply at:
www.ndreadingcorps.org
(Reading position) or
www.ndmathcorps.org
(Math position)

Central McLean cheer attended cheer camp through NCA this past weekend! They received a superior award and qualified to compete at National Cheer Competition in Dallas, Texas! They also received a spirit stick and a S.T.U.N.T safe award! Not only did the team do well but Destiny Schadegg and Emma Axt were nominated as an All-American cheerleader along with receiving the "America needs more cheerleaders" pins! Coach Cailey Ferber also received an NCA coach Credentialing Certification!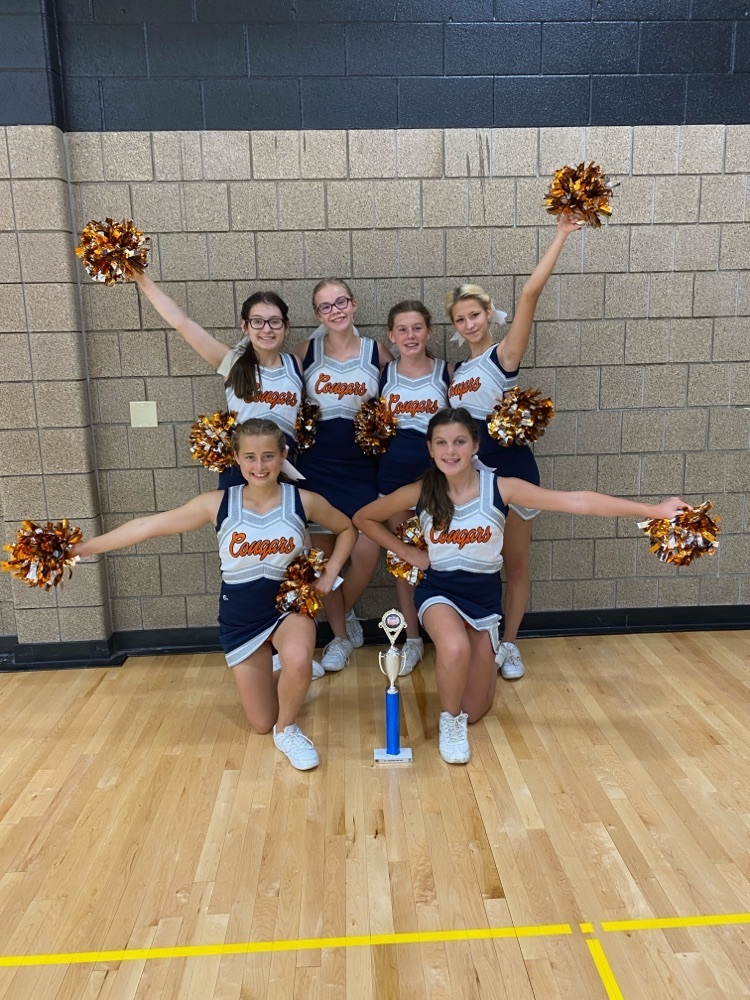 2021-2022 Fall Sports Start Dates and places of first practice. Please make sure your grade 7-12 student has their physical before practice begins. Aug. 2 - Girls Golf - Underwood Aug. 5 - Football - Underwood Aug. 9 - Cross Country - Underwood Aug. 9 - JH Fball - Underwood Aug. 16 - Volleyball - TLM Aug. 18 - JH Volleyball - Underwood Aug. 23 - Elem GBB - City Hall

Underwood School District is looking for an individual to serve as a math tutor for students from grades 4-8 for the 2021-22 school year through the Math Corps program. If interested please apply through the following website.
https://www.ndmathcorps.org/become-a-tutor.html

Underwood Elementary 2021-2022 Supply List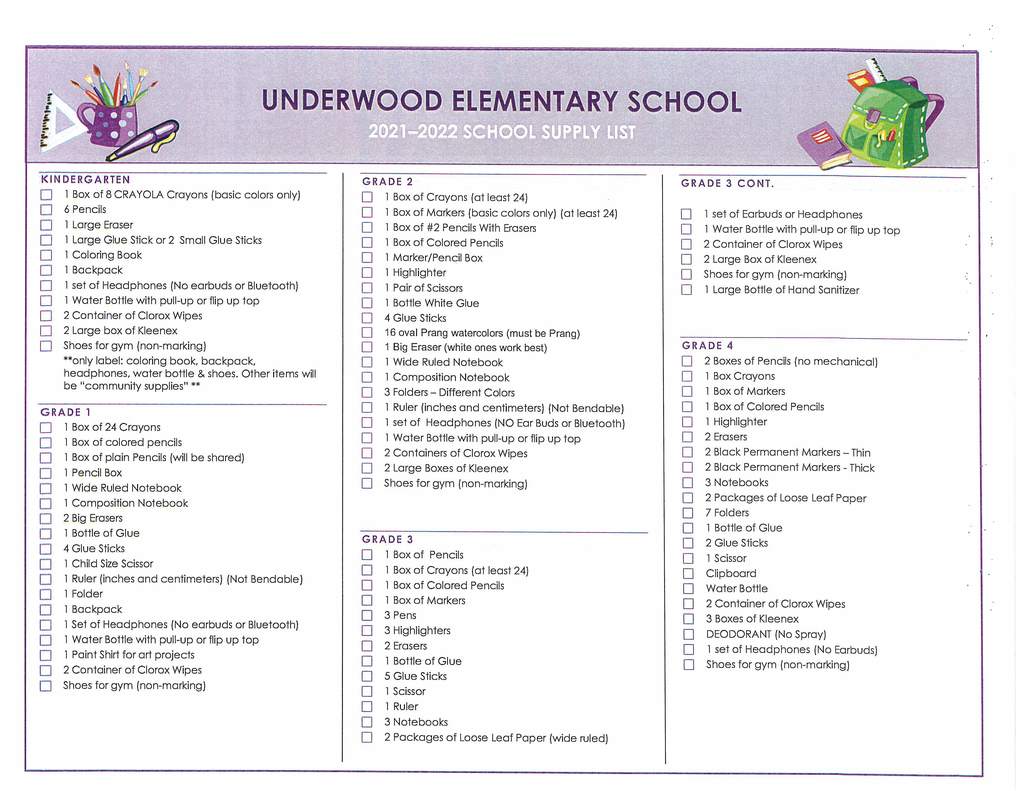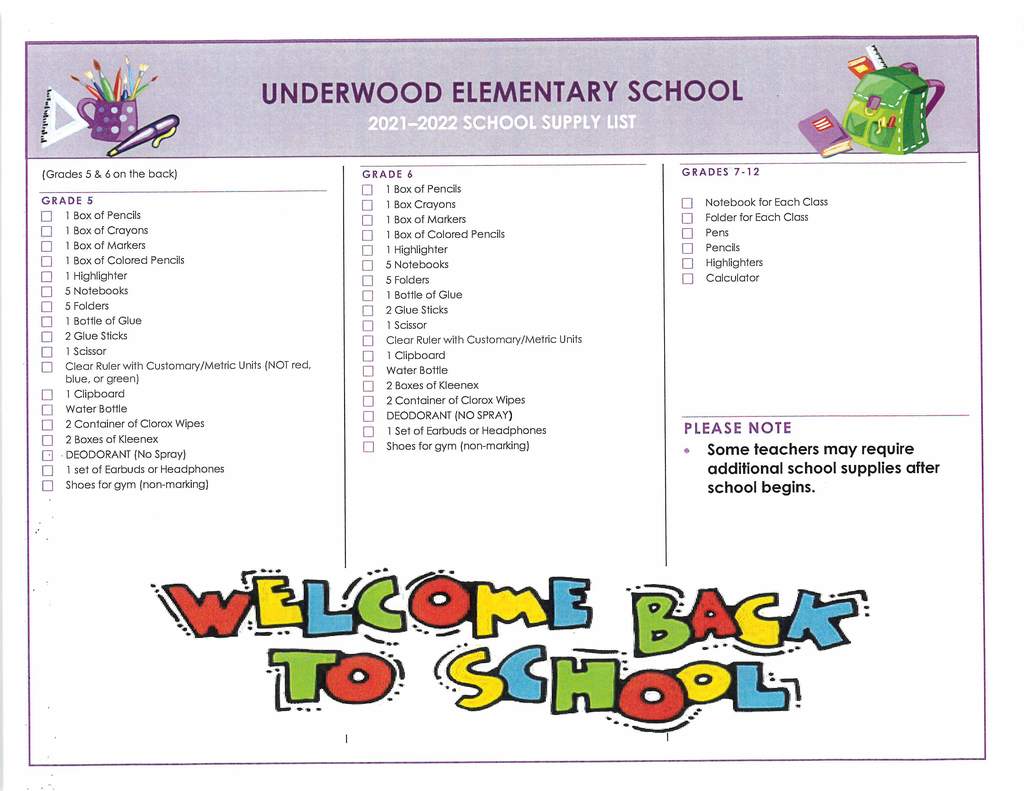 Central McLean Cougars sign up for Girls Golf! Please contact Coach Kramer at
heather.kramer@k12.nd.us
if you are interested and would like to participate! The season starts August 2nd for practices. We are currently working on the golf schedule and will release that as soon as it is finalized. Please feel free to contact Coach Kramer if you have any questions.

Reminder that Underwood Clinic will be at the school today from 1 - 4 pm for sports physicals. Students in grades 7-12 are welcome to walk-in for appointments.

The Underwood Clinic will be at Underwood School on Wednesday, July 14 from 9 am - 12 noon, and Wednesday, July 21 from 1 pm - 4 pm. This will be for sports physicals for students in grades 7-12 for the upcoming school year. Please set up appointments by calling the Underwood Clinic @ 701-442-3148. Walk-in appointments will be allowed, but prior appointments preferred.

All students in grades 7-12 interested in becoming a 2021-2022 Central McLean football cheerleader should contact Coach Cailey Ferber by Monday, June 21st to sign up. There will be a short parents meeting on Thursday, June 24th. Email: Cailey.A.Ferber@gmail to sign up or if you have any questions.


Notice of Annual School Election Underwood Public School District # 8 Election Day will be Tuesday, June 8, 2021 from 11:00 AM to 7:00 PM at the Underwood Public School Commons Area, 123 Summit Street, Underwood ND, 58576 for the purpose of electing One Member to the Underwood School Board as follows: One Director for the "Rural" Position Angela Riehl Business Manager

Just because it's summer doesn't mean The Underwood Way goes away. Tomorrow is the first Wednesday in June making it Way Wednesday. Let's see those Underwood Way t-shirts and some Best U behavior: Responsible, Respectful, and Ready.

Congratulations to Girls 4 x 400 relay, State Champions!